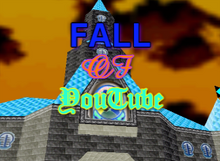 "Fall of YouTube" is a video series by Schm2000 that stars Schm2000 as the main protagonist and Xario as the main antagonist. Currently there are 6 episodes, one being a prologue short, and the series centers around the continuing war between the YouTubers and the Death Trappers and their true leader, Xario. Not only must they deal with the spirits of Xario, but they must also stop the Wither's invasion and defeat the insane and fourth-wall breaking Death Trapper 63.
Characters
Edit
Main Heroes:
Edit
Schm2000 (Main)
MarioMario54321 (2nd)
Fares242
KirbyRider1337
iJosh64
DylanDylan54321
DragonBallZKai5
Simontheotaku
Major Heroes:
Edit
MarioSuperSoda (AKA EmigasFist)
ShadowGlobe
MarioMario761
Marhfg
Luigi
Fawn
Marigi
Zeus Krazy
Jbro109
Musthasto (AKA Musthast0)
LuigiFan383
Mariofan14
LuigiLuigi573
Scatman Mario
Shadowarrior454
Jediwarriormike
DarthRevio
Mario
Starman3
Cooolboy78
Sonicfan13
YoshiFanX
4D Toadley
Fizzy Jam
UMario
Waluigifan32
Paul
Firemario126
Brynn1100
Tagen SMBF
LuigiGame2 (AKA Yuigi)
Shad
Pinkolol16
UltimateHario1
Minor Heroes:
Edit
PowerBros9001
Zythian
RoyalOMG
Colgan
Enzo
SuperEmiga
Crownux
SuperNimi35
Runner4707
MarioStar92
Yoshi Guy
SMUS16475
MarioGame2222
Scatman Luigi
WaluigiGame2
LuigiFan54321
Skelux
Claude
Dead Cameos:
Edit
Axitonium
Lugiaboy2
Ethan
Dalton
Captain64000
LucarioKiddo
CandyMario751
FireMario54321 (AKA Xario)
Schm4000
Fourmon
Starman4
QuarioQuario54321
Main Antagonists:
Edit
Xario (AKA FireMario54321) (Main)
Yuigi (AKA LuigiGame2)
Death Mantis (AKA Death Trapper 63)
Clawdeender
Major Antagonists:
Edit
EmigasFist (AKA MarioSuperSoda)
Antagonists:
Edit
Martian King
Cut Man X
Xexon
iJosh63
Simon's Shadow
Minor Antagonists:
Edit
Xario's Disguise Spirit
Xario's Ice Spirit
Kiddy
Xario's Fire Spirit
Xario's Resistance Spirit
Death Trapper 11
UltimateZario1
Wiz
Xario's Chaos Spirit
Crystal King
Death Trapper 12
Death Trapper 13
Alpha Green 1
Wither
Quartz King
EmigasFist Virus Infected:
Edit
Enzo
SMUS16475
Scatman Luigi
Mario
Firemario126
LuigiFan54321
RoyalOMG
Pinkolol16
UltimateHario1
SuperNimi35
Confirmed for Future Appearance
Edit
The follow characters have been confirmed to appear in a future episode. The importance of their role has yet to be decided.
LuigiFan456
Aquablade5
SeanKlaskyN64
Geofcraze634
SuperRhys217
LuigiMaster7070
InfernoBeast
ThradOiver
List of Episodes
Edit
Prologue
The Beginning of the Fall
Origin of Schm
The War is Going On
A Falling Resistance
Return of the Infected
Mechanical Mayhem
Xario and Yuigi