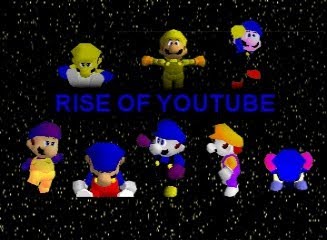 "Rise of YouTube" is a video series by Schm2000 that stars Starman3 and Schm2000 as the main heroes and EmigasFist as the main antagonist. Like its predecessor, "War of YouTube!", it is split up into eleven episodes and centers around a war between the YouTube Rangers, YouTubers, Mushroom Kingdom citizens and other people as they face against the Death Trappers throughout the Super Mario 64 Dimensional Cycle.
Characters
Edit
Main Heroes:
Edit
Starman3 (Main)
Schm2000 (2nd)
SMUS16475 (3rd)
MarioGame2222 (3rd)
MarioMario761 (3rd)
DragonBallZKai5 (4th)
MarioMario54321 (4th)
MarioSuperSoda (4th)
Skelux
Cooolboy78
Lugiaboy2
Simon
Thecaptain64000
Mario
Shadowarrior454 (AKA Death Trapper 9)
Starman4
LucarioKiddo
Jbro109 (AKA Latiosboy5)
Dalton
Zythian
iJosh64 (AKA Camjosh9)
WaluigiGame2
Shad
Fawn
Brynn1100
MarioStar92 (AKA MarioStar64)
UltimateHario1
Crownux
Luigi
Runner4707
Minor Heroes:
Edit
SuperNimi35
LuigiFan54321
Schm4000
Fourmon
QuarioQuario54321
LuigiGame2
Ethan
Yoshi Guy
Musthasto (AKA Musthast0)
YoshiFanX
LuigiLuigi573
Axitonium
Claude
CandyMario751
Mariofan14
Main Antagonists:
Edit
EmigasFist (AKA Death Trapper 3) (Main)
X (AKA Death Trapper 1/Thegeneral65000) (2nd)
SuperEmiga
Martian King
Antagonists:
Edit
Luke (AKA Death Trapper 4)
Clawdeender
Death Trapper 6
Infected Enzo
MarioMario54321 Clone
iJosh63 (AKA Death Trapper 7)
Simon's Shadow
UltimateZario1
Infected LuigiFan54321
Crystal King
Minor Antagonists:
Edit
Death Trapper 2
Death Trapper 10
Death Trapper 63
MarioMario761 Clone
Runner4707 Clone
Thecaptain64000 Clone
Mario Clone
MarioMario77777
EmigaDylan
Thunder Robot
Schm2000 Clone
Death Trapper 5
Death Trapper 8
Death Trappers
List of Episodes
Edit
The Beginning
The Road to the War
The Ultimate Power
The Start of the Invasion!
Emiga's Attack!
The Clone Battle Begins!
Blooper Land taken over!
End of all Dimensions
The Matters of Zythian
The Invasion of the Castle
The End of Emiga
Ad blocker interference detected!
Wikia is a free-to-use site that makes money from advertising. We have a modified experience for viewers using ad blockers

Wikia is not accessible if you've made further modifications. Remove the custom ad blocker rule(s) and the page will load as expected.