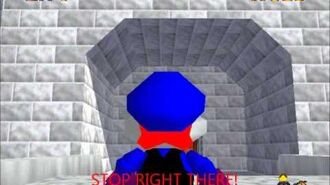 The seventh episode of "War of YouTube!" is about 3 minutes and 11 seconds long and has Schm2000's only Windows Movie Maker fight scene.
Spoilers start here!
Schm2000 announces that none of the regular travel methods are safe to use (like traveling the dimensional current forwards or backwards and traveling through Mars), so he reconfigured the warp pipe on top of Star Tower to go to the Mushroom Kingdom instead of it's regular place. When Schm2000's group arrives at Peach's Castle, however, they encounter MarioC and Camjosh9C. While LucarioKiddo faces Camjosh9C and wins, Dalton faces MarioC and also wins. Schm2000 then enters the castle in order to use the relics.
List of Characters (Order of Appearance)
Edit
Schm2000
Mario (MarioC)
Clawdemario (MarioC)
Camjosh9 (Camjosh9C)
Clawdecamjosh9 (Camjosh9C)
LucarioKiddo
Dalton



Ad blocker interference detected!
Wikia is a free-to-use site that makes money from advertising. We have a modified experience for viewers using ad blockers

Wikia is not accessible if you've made further modifications. Remove the custom ad blocker rule(s) and the page will load as expected.