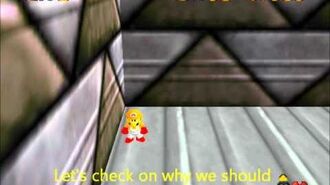 The eighth episode of "War of YouTube!" is about 3 minutes and 42 seconds long and is the first video to feature Clawdeender as an antagonist.
Spoilers start here!
A Clawde (MarioMario54321C) asks a fellow Clawde (Clawdeender) if he should kidnap some of Schm2000's group. The fellow Clawde responds yes. Schm2000 then uses the relics to summon the Golden Sage and in return for summoning the sage, he is rewarded with a riddle: "Since you are at war: 5 posed will win for all against ones who control their peril!" The Golden Sage then leaves, making Schm2000 figure the riddle out. Meanwhile, MarioMario54321C gathers the Clawdes to the Vanish Cap Course and lists the reasons why the rest of Schm2000's group should be killed. Clawdeender interrupts the speech and says that Schm2000 needs to be possessed because then the rest of his group would be easier to catch. Clawdeender then reveals that Skelux and LuigiGame2 have been kidnapped by the Clawdes.
List of Characters (Order of Appearance)
Edit
MarioMario54321 (MarioMario54321C)
Clawdemariomario54321 (MarioMario54321C)
Clawdeender
Schm2000
Golden Sage
Skelux (Brief appearance)
LuigiGame2 (Brief appearance)


Ad blocker interference detected!
Wikia is a free-to-use site that makes money from advertising. We have a modified experience for viewers using ad blockers

Wikia is not accessible if you've made further modifications. Remove the custom ad blocker rule(s) and the page will load as expected.